Hindi Week Celebrations: 2011
http://www.avm.edu.in/wp-content/uploads/2015/11/avm-header_10.png
0
0
AVM Teachers
http://www.avm.edu.in/wp-content/uploads/2015/11/avm-header_10.png
AVM Teachers
2012-01-14 18:57:00
2015-05-25 00:15:25
Robo Camp and Hindi Week
"Science is nothing else but perception" – Plato.
Atmiya Vidya Mandir School believes the only way in which we can equip a new generation to cope with a rapidly changing environment is, to teach them How and Why behind natural and non made phenomenon.
On August 27, 2011, the Science Department of AVM presented an exciting event of Inter House Science Competition.
Opportunities for learning exist everywhere! This Science Competition was an attempt of showing some ways, in which these opportunities can be made use of.
Science Competition highlighted the following events:
· Visual Quiz for Standard I and II
· Live video demonstration Quiz for standard III and IV
· Poster making and presentation for standard V and VI
· Team challenge for standard VII and VIII
· Group presentation for standard IX and X
From Junior group, each participant was engaged in joyful exploration of the scientific world around and harmonizing with it.
During the team challenge activity, the team participants were asked to design a bridge from the given sheets of paper and resource material. Surprisingly the paper bridges were found sturdy enough after the verification of their strength!
Participants of standard IX and X were allotted the topics a week earlier and they were allowed to proceed with their scientific views, keeping presentation outline in mind.
The topics chosen by Science team was
· Satyam House: Sound and its applications/ dispersion and scattering of light
· Shivam House: Chemical Reactions
· Sundaram House: Nervous System (Control and coordination)
· Suhradam House: Exploring Universe
This event was the combination of several scientific skills. The teacher's role in all activities was not of transforming information but rather one of being a facilitator, a leader and a resource person in a learning process.
The activities were designed to encourage students to observe and explore their environment; to understand relationship in nature and between human and nature; and to learn better how humans are an integral part of the intricate web of life.
Learning Science can be more fun, both for the student and teachers, when it's based on real experience. We hope that these activities will lead to Joy of understanding, a process in which both students and adults enjoy exploring their environment together.
The entire events were meticulously judged by Honorable Principal Dr. Vijay Patel along with Dr. Rupashree Madam. Vijay Sir announced Satyam House as the overall winner and enlightened the students to promote the analytical ability to develop scientific approach towards the life.
Written by: Archana Madam and Kshitij Sir
http://www.avm.edu.in/wp-content/uploads/2015/11/avm-header_10.png
0
0
AVM Teachers
http://www.avm.edu.in/wp-content/uploads/2015/11/avm-header_10.png
AVM Teachers
2011-09-08 12:56:00
2015-05-25 00:15:26
Great Explorations!
Winston Churchill famously said that Success consists of going from failure to failure without loss of enthusiasm. Famous author JK Rowling in her commencement speech at Harvard University said that, schools prepare students to succeed rather than to face and handle failures in life but latter is a more likely event.
The Cultural Committee at Atmiya Vidya Mandir seems to be ahead of Harvard University in that respect as they decided to celebrate a unique value at Atmiya Vidya Mandir "Failing Forward". Shivam House got the opportunity to celebrate such a unique value recently.
The original idea came from a book written by John Maxwell: "Failing forward – turning mistakes into stepping stones of success." The book itself is one of the best sellers from the author and more importantly an inspiration to the readers.
Shivam House started the week with a presentation on Monday. The idea was to introduce the value to all the students with simplicity. Through various videos and examples it was made clear that if one can learn from a mistake then it is no longer a failure but a success. It was conveyed in the presentation that failure is a part of life, no one can avoid failure. More importantly it is about how to face the failure and bounce back from it. Students from Std 10 (Pranshu Savani and Hemal Gadhiya) gave a very meaningful presentation on 7 steps to fail forward. They cited different examples with videos which made the students and teachers want more. On Wednesday, Kishan G (Std 10) gave a speech on the importance of not to fail backward. He mentioned some criteria to help to see if one is failing backward or forward when they meet with failures.
On Thursday, Prajval Sir gave a presentation on the need to learn from mistakes and be prepared to face the failures in life as it is inevitable. He stressed the fact that failure is not fatal if we are ready to learn from it and not repeat the same mistake. Shivam House brought a new perspective to the value on Friday with a speech from Sarthak Jariwala (Std 12). Sarthak talked about the need of divine intervention when we cannot overcome the failures in life. He gave some good examples from different fields of life to make a very good point. He also explained Gunatitanand Swami's vaat "Dosh rahe che ne tali jata nathi…" and explained the importance of setbacks in life.
Every week, students look forward to the creative assembly as it brings a lot of excitement and new ways to learn about a life value. Shivam House increased the excitement of students by multi-fold through a video sneak preview of the Saturday creative assembly. Pujeetbhai prepared two very well made sneak previews for the Saturday's event which caught the imagination of the whole school including the teachers.
Shivam House did not disappoint the students by showcasing the assembly in a very innovative and refreshing form of a talk show. Vaishvik Patel (Std 8), the House Vice Captain, was the host of "The Saturday Morning Show with Vaishvik Patel". Vaishvik impressed everyone with his humour and his casual but friendly attitude. He was equally intelligent and respectful towards his guests on the show. In the show, the students of Shivam House presented a scintillating and inspirational dance performance on the song 'Chale chalo' from the movie LAGAAN. Suhradam Sir choreographed the dance very meaningfully and told a story of failing forward through the dance. The dance (lead by Vinay Rathi) showcased the spirit and enthusiasm which lifted everyone in the hall. Then it was a time to call upon the guest played by Bhavik Parekh (Std 9). Bhavik confidently played the part of a motivational speaker and put across his points successfully with videos of Isiah Thomas (basket ball player) and America's 16th president Abraham Lincoln. Bhavik explained that Lincoln was a very ordinary man and faced plenty of failures in his life but what made the difference was his attitude towards those problems. He also answered some questions from the audience.
One of the features of the show was its commercial breaks. The adverts were selected very carefully so that they were relevant to the value and also motivational for the students. The show ended with thanking the participants and key members of the staff who made the show possible through end credits. Shivam House also prepared a small 'The making of Failing Forward' video showing the efforts put by all the students and teachers with some funny moments.
Softboard presentation is a unique feature at Atmiya Vidya Mandir, as students and teachers prepare them week in week out with such creativity to convey some important life values.
Every success story is also a story of failure. All the successful and famous people overcame the hurdles and then became successful. Shivam House chose a similar theme of depicting the 'famous failures'. They included the lives of Michael Jordan to Albert Einstein who all were told they could not succeed in life. But their courage and perseverance brought them unprecedented success. Such examples also included Amitabh Bachchan, Abraham Lincoln, Steve Jobs to name a few others. The message on the soft board was loud and clear "Achievers reject rejects, they never give up, and they redefine the failures".
Shivam House thanks everyone who made this week possible and made it a huge success.
Shivam House
http://www.avm.edu.in/wp-content/uploads/2015/11/avm-header_10.png
0
0
AVM Teachers
http://www.avm.edu.in/wp-content/uploads/2015/11/avm-header_10.png
AVM Teachers
2011-08-13 14:55:00
2015-05-25 00:15:26
Failure is an event, NEVER an Individual.
At one side where the cultural and creative facet of Atmiya Vidya Mandir is flourishing red and pink at its pick through house activities and Creative assemblies , on the other side physical activities and health fitness are taken care of through sports and games. It was trailed as a sporting celebration of football bonanza over creative assemblies: The inter school football tournament was organized at Atmiya Vidya Mandir. Interestingly, despite the occasional downpour which was discouraging at fullest, AVM evidently hosted the event quite efficiently and successfully. Youngsters from around the Surat region learned about the importance of team work and fair play at a five-a-side football tournament last week. The free event was held at Atmiya Vidya Mandir's huge play grounds.
Football is a very popular game among the school children. Part of its popularity may be its simple rules and the large field and for AVM students….part of its popularity may stem from the fact that a slight drizzle adds fun to the game and an excuse to get wet. Students display amazing ball control, dexterity and other skills with the ball, during this Annual Inter-School Competition termed as The Subrato Cup Interschool Football Tournament. In which five schools of Surat region participated, two revolutionary teams going head to head on the football pitch, just days after creative uprisings topple rain-bound passivity.
Subrato Cup Football Competition
The football event was in two categories, Under 14 and Under 17
Under 14:
8 teams participated.
1ST .SEMIFINAL:-SWAMINARYAN MISSION V/S VALMIKI VIDYALAYA
2ND SEMIFINAL: – ESSAR INTERNATIONAL SCHOOL V/S P.P SAVANI
WINNER TEAM:- ESSAR INTERNATIONAL SCHOOL
Under 17:
10 Teams participated.
1ST .SEMIFINAL:-ESSAR INTERNATIONAL SCHOOL V/S VALMIKI VIDYALAYA
2ND SEMIFINAL: – ATMIYA VIDYA MANDIR V/S P.P SAVANI
FINAL: – P.P SAVANI V/S ESSAR INTERNATIONAL SCHOOL
WINNER TEAM:- P.P SAVANI
AVM won the first knock out round against Ryan International School but lost against PP Savani School in the second round who were the eventual winners of the tournament. It ended with unprecedented excitement and many learning experiences. The match — between VALMIKI VIDYALAYA and ESSAR INTERNATIONAL SCHOOL kicked off in a festive atmosphere.
The thrilling game has promised to return stability to the academics, but in the aftermath of this tournament students are believed to win the other tournament too ….which was Inter House Table Tennis Tournament…..There were more than three groups in the Table Tennis set, junior and senior group but in house wise team.. Junior group for classes 6 and 7, and senior group for classes 8 to11. The school Table Tennis set practiced and played on four tables at the old hostel building. The inter-house Table Tennis trophy is awarded each year to the winner of the inter house Table Tennis Championship.
But as the game entered stoppage time with Satyam and Suhradam house students trailing 5-4 on aggregate and facing elimination from the competition, supporters of the house began pouring on to the place in droves, supporting their respective house player.
Watching children at play sometimes, one can see that teamwork does act as a natural condition . Teamwork must be learnt, and to be learnt, teamwork is stressed from the very first day of practice of games and Sports at Atmiya Vidya Mandir. Discipline is even more important. Participation in all athletic endeavors demand a lot of discipline, and this is something for which many young players are well prepared.The free event saw approximately 50 children – aged between 14 to 17 years old – entering a mini league.
May not be the winning but the importance of sports and games in school encompasses more than just the benefit of physical activity. Increases in self-esteem and mental alertness make school sports and games necessary for every school age child.
The evidence supporting sports participation for AVM students is overwhelming.
"It has the power to combat everything from low marks to low self-image, to the high-level energy drop-out rate." (Sue Castle, Executive Producer of PBS Sports: Get in the Game)
http://www.avm.edu.in/wp-content/uploads/2015/11/avm-header_10.png
0
0
Seema Joshi
http://www.avm.edu.in/wp-content/uploads/2015/11/avm-header_10.png
Seema Joshi
2011-07-29 09:01:00
2015-05-25 00:15:26
Building active communities through sport and games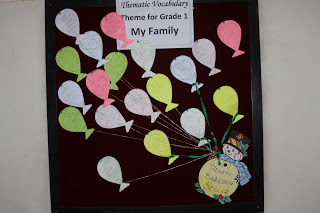 "Word power is the key to effective communication"
Keeping in mind the above mentioned secret of English Language Improvement 'Thematic Display Board Activity' has been successfully conducted by the English Teachers of Std. 1st to 5th as a part of English week celebration. (4th July to 9thJuly)
The very first day of the week, different riddles and crossword puzzles were displayed along with pieces of papers to write answers as well as the boxes to drop their answers in. That day the board was looking like a bee hive surrounded by several honeybees.
The next day, the five boards were allotted to respective classes for a given theme. All the boards were entitled by different themes namely; My Family (Std 1), My Classroom (Std 2), My School (Std 3) My Library (Std 4) and Parts of Speech (Std 5).
Please click on the following pictures to view the details of the work done by AVM Wonders.
All the students were given colourful papers of attractive shapes. They were asked to write words related to the given theme in those papers and stick on the respective display boards. All the students participated in the activity with a great spirit. The students were allowed to make errors and learn from them. We would rather say the boards were full of efforts of little "bhoolkus" of Std.1st to 5th. Of course, Renuka Madam and Ruma Madam were the teachers behind the scene. They boosted their enthusiasm.
All the participants were highly appreciated in the morning assembly for their active participation. It is rightly said that any learning coupled with fun and play is always accepted wholeheartedly.
Written by: Saumya Madam
https://www.avm.edu.in/wp-content/uploads/2011/07/Std1-My-Family.jpg
213
320
AVM Teachers
http://www.avm.edu.in/wp-content/uploads/2015/11/avm-header_10.png
AVM Teachers
2011-07-18 08:19:00
2015-05-25 00:15:26
Thematic Display Board Activity
"The old order changeth, yielding place to new".
Leaders are not born they are made, in Atmiya Vidya Mandir, the students storing the treasures of childhood are also growing up as compassionate, caring and committed individuals. Here, while enjoying the freedom students learn to be responsible and disciplined. Responsibility is something that has to grow from within the child and in Atmiya Vidya Mandir it finds direction in the values absorbed by the children by participating in various activities outside the class room. Student Council is a platform where representative of student-body shoulder and share responsibilities in conducting various activities within the school. As discharging their duties in their particular role, the active members of Student Council learn to develop pride in their competence, experiencing challenges and their own way of doing things. These are all essential if our students are to grow up to become independent responsible adults
The Investiture ceremony of our school was a solemn occasion, where the elected members of the student Council took the oath of confidence to uphold the honour of our school. The occasion was held on the 25th of June, 2011.
As per Atmiya Vidya Mandir's tradition, the respected guests Haresh Sir, Vijay Sir and previous year's Head Boy Sarthak Jariwala were requested to light the auspicious lamp and do the pujan of Thakorji to begin the ceremony. The oath-taking ceremony commenced after declaration of the roles, for which the principal of the school Dr. Vijay Patel was invited on the stage. He administered the oath of honor and dedication to the members of student council. This was followed by an inspiring speech by him in which he insisted to be active and enthusiastic in academic, extra-curricular and sports activities. He also inspired the office bearers to be role models and take up responsibilities in the right perspective.
Then, Dr. Rupashree Ma'am briefed the designated role and responsibilities of Head Boy, Vice Head Boy, Sports Captain and Class Prefects. She also motivated them to perform their duties in accordance to the laws of the school. The chief guest of the occasion was our honorable Principal Sir Dr. Vijay Patel. School Head Boy Sarthak Jariwala gave the welcome address. The function was in a very befitting manner, the badges were pinned by the respective House Conveners to their House Captains. Donning the mantle of responsibility, they also pledge to dispense their duties sincerely and abide by the rules and regulations of the school.
It was followed by flag receiving ceremony, the Head boy, sports captain, and house captains received school flag, sports flag and house flags respectively. The program concluded with the school song. The list of newly elected office bearers is as follows:
Head Boy: Aditya Patel (Class 11 Science)
Vice Head Boy: Parth Amipara (Class 9B)
Sports Captain: Abhishek D Patel (Class 10B)
Satyam House
Captain: Harsh Sarda (Class 9A)
Vice Captain: Anand Pandya (Class 8A)
Shivam House
Captain: Sagar K Patel (Class 10B)
Vice Captain: Vaishvik M Patel (Class 8B)
Sundaram House
Captain: Anmol Kagrecha (Class 9A)
Vice Captain: Rushi Patel (Class 8B)
Suhradam House
Captain: Harsh Ambalia (Class 10B)
Vice Captain: Yogin Patel (Class 8B)
http://www.avm.edu.in/wp-content/uploads/2015/11/avm-header_10.png
0
0
Seema Joshi
http://www.avm.edu.in/wp-content/uploads/2015/11/avm-header_10.png
Seema Joshi
2011-07-07 08:56:00
2015-05-25 00:15:26
Investiture Ceremony 2011 – 2012
For me the diamond dawns are set
In rings of beauty,
And all my ways are dewy wet
With pleasant duty.
~John Townsend Trowbridge
Education at Atmiya Vidya Mandir is blithesome and an enlivening experience. Our philosophy is that each child is unique and has his own strengths and fixity of purpose. Through various activities, a lot of emphasis is given to personality development; here, each child is lovingly mentored and chiseled to find his niche. Our focus is to groom our children to be global citizens with regard to Indian culture and values and morning assemblies at Atmiya Vidya Mandir provide a platform for the same.
Great ability of students developed and revealed itself increasingly through the active participation in proceedings of morning assemblies. It commenced with a round of interview sessions on the stage during assemblies. The first in the round was an interview of the top scorers of AVM for board exams of 2010-11; they were Sahishnu Patel, Samyak Varia, Anirudh Chandak and Shaivin Patel. These students were interviewed by Pranshu Savani to share their secrets of getting such a good result. These students talked about some handy and practical tips to keep going with top scores in every exam. The next day, during morning assembly the Head Boy Sarthak Jariwala was candid with Ghanshyam Dabhi sharing with audience (the other students from Std 6th to 12th) his way of dealing with various matters related to studies and his duties as Head Boy. The next day, students who joined AVM only last year were interviewed to talk about their experiences and it was quite amazing to know that they find AVM a Home away from home….
In order to maximize the use of leadership skills, confidence and understanding of leadership among students, this year once again the Student Council was introduced with a few changes and greater scope. In the next morning assembly, Paras Sir gave a better insight to the students about the working and structure of Student Council and all the four Student Houses.
The following assemblies were quite electrifying as the election fever for the Student Council soared high among the students and campaigning buzzed into the air. The nominees for the various posts of Student Council adorned the stage with their marvelous speeches campaigning and boasting themselves as most deserving candidates for the posts of Head boy, Vice Head Boy and Sports Captain. They came on the stage and made all the effort through their impressive speeches to lure the students to vote for them.
Irrespective of their winning or losing the elections, one fact is sure to be accepted that these applicants proved to be the best speakers. The scene and the show were no more different in the next day assembly when candidates for the posts of Captain and Vice-Captain for all four students' houses delivered mind-blowing and stirring speeches.
Thus it was all folded up with the elections held in the most sophisticated manner. A special software designed by the school IT Department was used to make the elections fair and smooth. Thus, this new session 2011-12 commenced setting up some new tasks for the students which are outside the classrooms to check and hone their abilities and capacities and nurture a sense of duty into them; we conducted morning assemblies differently this time. Effective communication is the key to successful leadership and students learnt both the art and science of speaking through these assemblies, both through interview rounds and election speeches. Though we do realize not every student is an award winning public speaker but it was an effort to train them as an influential communicator. Listening is another key factor which was manifested by the students as audience.
Election result for the student council is yet to be declared but one fact is sure that it brought lots of actions from students' side, and Action springs not from thought, but from a readiness for responsibility. And we can boastfully say that our students are being developed and trained to be dutiful and responsible which come along with an attitude of self-discipline… amazingly it's a complete package!!!!!!
http://www.avm.edu.in/wp-content/uploads/2015/11/avm-header_10.png
0
0
Seema Joshi
http://www.avm.edu.in/wp-content/uploads/2015/11/avm-header_10.png
Seema Joshi
2011-06-22 07:43:00
2015-05-25 00:15:27
Assemblies are Special here..…