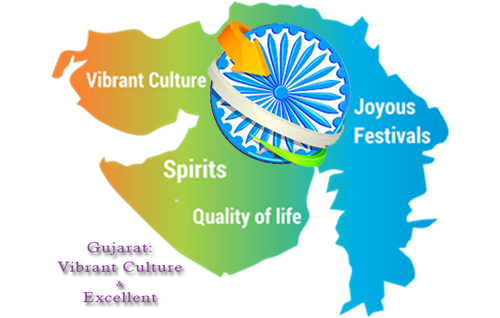 Where the mind is without fear and the head is held high……. 

Where the world has not been broken up into fragments…………
When the great poet Rabindranath Tagore wrote these lines, hardly had he
thought that his words would take shape of reality in Gujarat. Gujarat,
the 'Land of the Legends' which leaves behind impressions with
footprints on the sands of time. Life is a Celebration for those who
live in Gujarat, a place where Gods chose to exist! Hence Sundaram House
unfolded the astounding features of 'Garvi Gujarat' in the first week
of this November.
Throughout this week, during morning
assemblies, members of Sundaram House showed informative presentations,
enchanting videos and explanatory speeches in order to make the students
aware of the rich heritage and unique culture of Gujarat.
On
Monday, to begin with, students were shown a video-clip about the
Gujarat Development Model, which explained and showed Gujarat as India's
fastest developing state, stating Gujarat's commendable achievements.
The next day, a captivating and much convincing PowerPoint presentation
was shown on the topic, 'Contribution of Gujarat in the fields of
Science and Literature'. Students acknowledged the role of Vikram
Sarabhai and Pranav Mistry in the field of Science and Technology. On
the third day of this week, students were shown some videos related to
the contribution of Gujarat born leaders in the Freedom Struggle and
politics. Legendary personalities like Gandhiji, Sardar Patel and
Narendra Modi were praised for their inspiring lives.
On the
following day, students got the opportunity to watch a video clip which
showed Param Pujya Swamiji mentioning in his speech that Gujarat is a
pious and the most sanctified land as it has been the 'chosen land' by
saints, deities and religious Gurus of India.
The week was
concluded with highlights of other remarkable and fascinating features
of Gujarat, its cultural significance, historical places and temples and
architecture. Through speech and video, students were made aware about
the vast natural resources and its rich, cultural heritage which has
endeared Gujarat and Gujaratis even to the rest of the world.
Additionally,
in the assemblies of junior students, there was much fun with glimpses
of marvelous features of their motherland Gujarat. Each day of this
week, brought some valuable information to these little young minds.
They acknowledged much information and facts about food, music,
religion, custom, traditions of Gujarat. Most noticeably, the last day
was extremely fun-filled for them, as the junior group of Sundaram House
presented a scintillating Garba Dance.
Thus the students of
Atmiya Vidya Mandir realized and rediscovered the charm and charisma of
Gujarat, where the future is expected to have in store, days full of
peace, prosperity, wealth and immense beauty of culture, tradition and
nature.
Truly, let's all sing together…JAY JAY JAY JAY GARVI GUJARAT!!!
https://www.avm.edu.in/wp-content/uploads/2014/11/AVM-sings-the-glory-of-Gujarat.jpg
318
500
Seema Joshi
http://www.avm.edu.in/wp-content/uploads/2015/11/avm-header_10.png
Seema Joshi
2014-11-10 10:00:00
2015-05-27 17:35:28
AVM sings the glory of Gujarat!