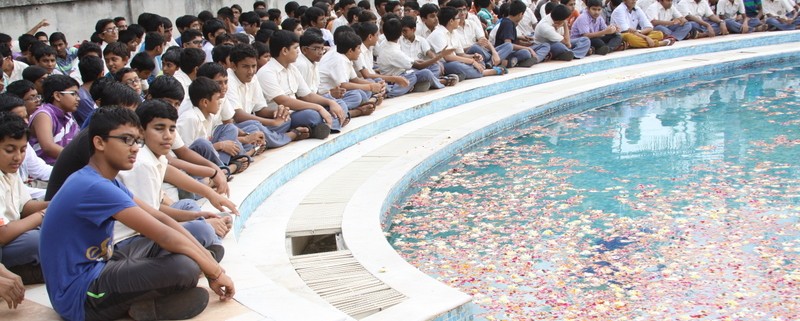 India is blessed with the delightful celebrations, not only fun-filling in life but also spiritually inspiring. Each festival has its own space and significance in India.One amongst many such festivals, was celebrated at Atmiya Vidya Mandir on 5th September, 2014. Resembling the purification process of body, mind and soul, it is named as Jal Jhilani Ekadashi, one of the most auspicious festival of Hinduism. The celebration took place at school's swimming pool, wherein the whole school was present, from every elderly person to the youngest one.
The Honourable Principal Sir addressed the students on the occasion and explained the purpose and essence of the celebration. He also explained the spiritual aspect of the celebration and the way one should get his mind and heart engross in it. Few of the messages from his speech are as below.
1. One should bestow full trust in God and Guru and never doubt their ability
2. Offer the complete charge of life to God without any reservations
3. Let God decide the destiny and enlighten the path of lifeAfter the speech, Thakorji's Aarti was performed by all the elderly members of our school. Then came the most awaited moment, Thakorji's Nouka Vihar. One by one, each class students enjoyed the ride of rowing and sailing the boat carrying Thakorji in the water.
Finally, the celebration ended by all enjoying the customary prasad of Cucumber. With this we end, but celebrations never end at Atmiya Vidya Mandir and there still are many more to come on the way.
Reported by: Rashmi Ma'am
https://www.avm.edu.in/wp-content/uploads/2014/09/Jal-Jhilani-Ekadashi-2014-Letting-the-Almighty-to-drive-our-lives.jpg
534
800
AVM Teachers
http://www.avm.edu.in/wp-content/uploads/2015/11/avm-header_10.png
AVM Teachers
2014-09-09 06:30:00
2015-05-27 19:49:35
Jal Jhilani Ekadashi 2014: Letting the Almighty to drive our lives