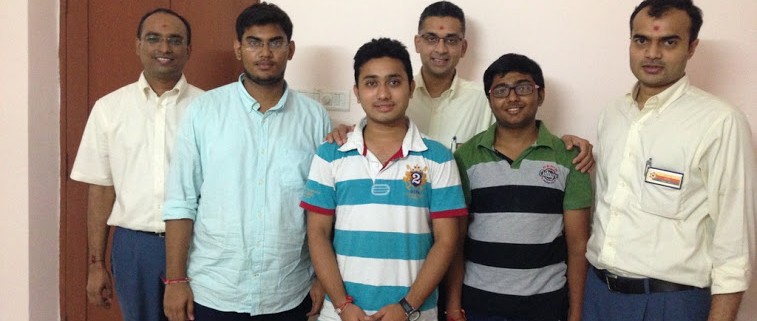 Despite being a very young school with just 3 graduating batches so far, we are proud that our students are already doing well wherever they have gone across India or across the globe. With their hard work, Param Pujya Swamishree's blessings and God's grace, all are doing well at very good places.These Atmiyans have been building small Atmiya communities wherever they have gone. This Rakshabandhan break, we decided to visit two of these Atmiya communities.
The first trip was to Chennai, to meet with those studying at the SRM University. There are 16 AVM students studying there from the three 3 batches combined. As a pleasant surprise, we were greeted by familiar faces right outside the Chennai airport on 9th August evening. And it was such a pleasure to see them! We stayed with them for 3 very memorable days.We spent the entire Sunday with them, discussing all sorts of topics with them: about personal, academic, professional and spiritual progress. On Monday, we visited the university to find out first-hand about the place and the opportunities it offered. We were able to look around 3 departments, meet two HoDs and the Nanotechnology Research Centre Head.
The labs and the research facilities of the university are truly impressive. We were touched even more so by meeting with the HoDs. Dr. Thyagarajan (HoD, Dept. of Biotechnology), came across as an extremely learned and yet humble person. He spent about 2 hours with us, personally showing us around the labs and discussing his views about education and concern for welfare of the youths.
In our meeting with Dr. Murali (HoD, Dept. of Mechatronics), we found him also to be very much concerned about the well-being of the students. And in Mr Gopalakrishnan (Centre Incharge, Nanotechnology Research Centre), we found a patriotically hearted spiritual person.
We are extremely happy about the progress and performance of the atmiyans and especially so by seeing that they have continued with the Atmiya way of life, staying together, maintaining simplicity. They have made us proud of their continuing with the legacy. It was wonderful to see our children mature into responsible young men who are not only conscious about their academics and professional life, but also caring about their families, and making an effort to further improve their personal life. We feel all the more assured that these individuals will grow into outstanding citizens of our wonderful country and make their parents proud.
As for our views of the SRM University, we found it to be a place that offers ample opportunities for research, has great infrastructure while constantly improving and adding new facilities. Students indeed have the opportunity to learn from faculty who have exemplary qualifications and experience, and also the chance to study at some of the best places around the world due to the tie-ups with foreign universities.
The next part of the trip was to Mumbai where another sizeable community of atmiyans reside, doing great at great places like NMIMS, CBS, NM and HR. We spent an evening with them (with some good coffee!) and discussed a wide range of topics related to their all round development.
We came back re-energised and refresh, inspired by the thoughts, actions and aspirations of these young gentlemen.
And we look forward to meeting with them all soon and over and over again.
https://www.avm.edu.in/wp-content/uploads/2014/08/A-Refreshing-Inspiring-Trip.jpg
568
757
AVM Teachers
http://www.avm.edu.in/wp-content/uploads/2015/11/avm-header_10.png
AVM Teachers
2014-08-14 07:18:00
2015-05-27 19:37:15
A Refreshing & Inspiring Trip!