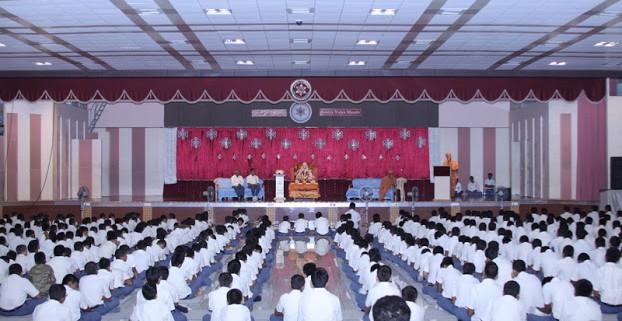 Every nook and corner of AVM campus and every life associated with it, has been flourishing through the ever flowing grace of His Divine Holiness Param Pujya Hariprasad Swamiji. Hence, at AVM, Guru Purnima is just not a commemoration of Swamishree's glory but a day to reunite with His supremacy by offering our prayers to Him."
Swamishree always blesses us with all success and happiness, we just need to be committed and resolute for a good cause and a good goal
." said Suhrad Swamiji while addressing the congregation of Guru Purnima celebration in the Atmiya Prayer Hall on campus. In the presence of all elders, teachers, hostel staff, students and all members of Atmiya family, the programme started with Thakorji's pujan by saints from Haridham and principal Vijay Sir. The junior class' students sang melodious bhajans admiring the beauty of a Guru-guided life.
Thereafter, the host of the programme, Mukesh sir narrated a few stories to the students elucidating that the Guru is God manifested and He cultivates the human potentials. The students were reminded that it was the day for them to resolve to those
easy-to-follow
yet
hard-to-stick
to injunctions given by Swamishree to all AVM students and to realise that following these will help them to be a better human being.The inspiring and elevating words of Pujya Suhrad Swamiji on this pious occasion explained that the best way of celebrating Guru Purnima and offering true reverence to Swamishree is by self – reflection to be worthy of His blessings. He further added that it is a day to decide to resort to prayers and take divine help each time we deviate from our goal. This would certainly bring a realisation which leads to improvement.
So let's decide, how we are going to deal with the darkness within us – with the glare of fascinating distractions that obscures OR with the light – the glow of Guru's grace that illuminates!!!
https://www.avm.edu.in/wp-content/uploads/2014/07/IMG_30294.jpg
415
622
Seema Joshi
http://www.avm.edu.in/wp-content/uploads/2015/11/avm-header_10.png
Seema Joshi
2014-07-14 10:45:00
2015-06-04 04:40:35
Guru: God Personified