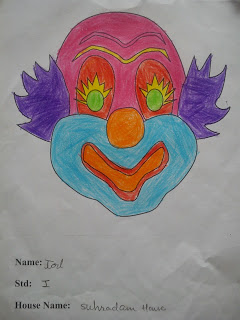 "
Individually, we are a drop. But together we are an ocean
".
It is often said that the best work that can be produced by people, is through teamwork. You sit in a group and share your talent and imagination with others. And what emerges, is a combination of multi-artistic perfection.
To bring out the best that the child has, Atmiya Vidya Mandir has designed different competitions based on the theory of eight Multiple Intelligences.
The Visual and Spatial Inter-House Competition was conducted on 20th July 2013, at different places in school between 11.40 PM to 1.00 PM. Such a competition where everyone needs to have the ability to visualize with the sight of mind.
The themes were as below.
Mask making– It was a fun activity of making a mask of any creature with paper to show various moods of different creatures.
Greeting card on computer– It displayed the imagination of students by designing birthday cards, poster and PPT's on the given topics.
Best out of waste– It helped students to come out with their innovations in finding out the usefulness of the waste materials.
Collage making– It assisted students with the art of creating the complete image from the separated and deserted parts.
Everyone was enthusiastic to excel in the competition and due to the limited time frame, participants were engrossed in performing the best. As it was also a team building activity, everyone experienced the power of coordination and team spirit. This competition, not only arouse a keen interest among all the students in imagining/visualising, but also provided a good platform to express their views and ideas.
The themes selected for this competition were vibrant and creative in nature. Everyone on campus observed and appreciated the creations of the students. Honourable Principal Dr. Vijay Patel, Vice-principal Ashish Patel, and one of the key event organisers, Manish Sir, along with the other observant judges assessed the competition.
Such a competition was tackled with much zeal and excitement. The students enthusiastically participated in the competition and presented beautiful creations.
The winners list is as follows:-
Mask making competition (Std 1, 2, 3)
Card making competition
Std 4: Nishant Patel (Shivam House)
Poster making competition
Std 5: Pransu Patel (Satyam House)
Presentation making competition
Std 6: Het Patel (Suhradam House)
Compiled by: Rashmi Ma'am
https://www.avm.edu.in/wp-content/uploads/2013/07/Std-1st-38Marks-1st-Winner-Jal-N-Dhamelia-_Suhradam-House.jpg
320
240
AVM Teachers
http://www.avm.edu.in/wp-content/uploads/2015/11/avm-header_10.png
AVM Teachers
2013-07-24 07:28:00
2015-05-25 00:15:20
Visual and Spatial Competition 2013-14