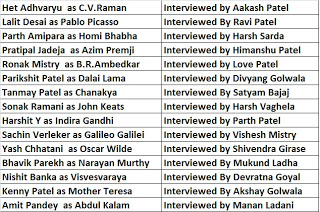 Loud reading…..factual answers…inferential answers…cramming vocabulary, extrapolative answers..literary explanations…paper pencil test ..and so on.. the mechanical order of learning…..Abstract concepts are difficult for most young children to grasp simply by hearing them explained. Atmiya Vidya Mandir, humbly, yet with a sense of pride, makes the abstract concrete. It is about doing rather than listening, about active engagement rather than mindless copying of words and sentences, which are often little understood. One fine example of such a practice is the 'Role Play Interview Round conducted by English teacher of grade 8. Instead of teaching a big unit of the English textbook titled 'Secret of Their Success' with conventional method ,where students were to read and write about the success story of great personalities, she thought of an activity based learning to empower their communicative skills .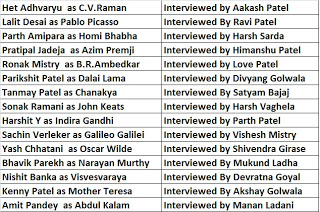 Reading extensively
: All the students of class VIII were divided into groups, each group consisted of two students. They were given research work on the life and success story of great personalities of the world , for example, Mother Teresa, Pablo Picasso, Azim Premji, Abdul Kalam, John Keats and many more…Here comes the reading part!!!!!!!! It was worth seeing, the scene of the library, to find all the students of Std VIII browsing books, reading about successful people of the world and discussing in groups. All of them read ardently and collected enough information about the success story and inspiring life of these personalities to feel inspired themselves.
Writing and speaking earnestly: It was the time to take up writing and speaking part. Each one of them along with their group member was assigned the role of interviewer and interviewee. In each group one student took up the role of a successful and renowned personality and the other one prepared and wrote a series of questions related to the life and success story of that personality. Some students like Anmol Kagrecha, Nishit Banka, Satyam Bajaj, Harsh Sarda, Harshil Soni, Parth Amipara, Param Patel and Love Patel were helping their peers to prepare well for the question-answer round for this Role Play Interview Activity.
Listening Actively: Once they were ready with their questions and answers related to the respective personality they were assigned to, their teacher showed them some videos of interviews. They all listened carefully and watched these videos to learn correct pronunciation, fluency, presentation, gestures and even the dressing of the interviewer and interviewee.
Learning Social skills: The students and their English teacher decided to perform this activity in presence of students, teachers and some elders of the school hence the preparations were in the air. The students prepared invitation cards for the guests of this event but their English teacher was happy to see that her students were actually learning how to write an invitation for an event, the learning just happened!!! More than learning to write they also acknowledged how to meet and talk dignitaries as they went to give invitation to Fuvaji, Haresh Sir, Principal Madam and all Departmental Heads. It was amazing to find them working as a wonderful team with coordination.
Event Management Skill: Besides being the participants of this activity, Students of Std VIII learnt how to organize an event owing to this activity. The seating arrangement, stage decoration, property management, receiving the guests, making bouquet of fresh flowers, etc. It was wonderful to see them do their work with great responsibility and coordination under the guidance of their English Teacher.
L.A.R.P (live action role playing): Finally, it was the day when they were to perform the role of the assigned personality(interviewee) and the other as interviewer. Tanmay Patel started the programme by calling upon the guest on the stage to do the pujan of Thakorji. Then Anmol Kagrecha took up the mic to deliver the welcome speech. Here comes the incredible performance!
The stage wore a perfect decorum of an interview session where these boys were in the shoe of world-renowned-personalities and were asked questions regarding their success journey, mile-stones, struggle and achievements. The back stage screen displays were amazing with the photograph and a short biography of each personality the students were role playing. This slide show was appealing and befitting to the show. The anchors Jeet Maradia, Yash Jariwala, Mitul Mehta, Harshit Talesara and many more were just astounding with their confident performance. Most of the students were able to overcome their stage fear and low self-esteem through this activity. Some of the students were able to get along with each other and work as a group.
Now it was the time for the three judges Paras Sir, Saumya Mam and Rupashree Mam to announce the result. It was amazing to get their positive comment about the performance of all the participants. The suggestions regarding pronunciation by Rupashree Mam were valuable. At the end, Prajval Sir announced the winners and congratulated them. The show ended with vote of thanks by Vishvajeet Solanki. Later, Nishit Banka, Harshil Soni, Bhavik Parikh and Kenny Patel and many students shared their experiences.
Akshay Golwala says, "We can understand now the importance of communication and communicating the right way."
"Not everyone is equally endowed with the ability to effectively express himself and this is where the importance of communication skills can be truly fathomed." says their English Teacher
The usually quiet Mitul says "I know now that the importance of communication is equal in every walk of like, be it in personal, professional or social life."
Yash Chhatani says "I have read and understood that people who end up making a positive difference in the world often possess qualities that transcripts are powerless to measure."
"I now know that important traits and attributes include perseverance, self-knowledge, imagination, the ability to identify the purpose of your life." says Harshit Y Agarwal
Parikshit says. "I understand now that we should pursue what we have interest in."
Pratipal Jadeja says "I came to know that success means the willingness to take risks, the ability to rebound from setbacks, and the capacity to empathize with and to work well with others."
Written by: Seema Madam
https://www.avm.edu.in/wp-content/uploads/2011/01/Role-Play-Class-8-English-Activity.jpg
212
320
AVM Teachers
http://www.avm.edu.in/wp-content/uploads/2015/11/avm-header_10.png
AVM Teachers
2011-01-18 07:09:00
2015-05-25 00:15:28
English Activity: Role Play Interview by Students